So, if you're a Lotus Notes user who bought an Android device on the AT&T network, you probably want to try out Lotus Traveler. Unfortunately, when you try to install Traveler on your device, you'll get a rude awakening. AT&T doesn't like apps that aren't in the market and they block you from installing it.
That's where a nice app called Sideload Wonder Machine comes in. This post will cover using it on Windows to install Lotus Traveler, and another post will cover Mac (and Linux).
First off, you'll need to download the Lotus Traveler app from your Traveler server. This isn't the installer app that is downloaded initially from the Traveler web page. You'll need to point your browser to it directly and download it yourself. The URL you'll use is http(s)://"your traveler server"/traveler/LotusTraveler/android/LotusTraveler.apk. Make sure you download the file named LotusTraveler.apk and not LotusInstaller.apk.
Now go download the Sideload Wonder Machine app (registration required) and install it according to the instructions. Once you're done, you'll be ready to go.
On your Android device, enable USB Debugging in Settings > Applications > Development.

Connect your phone to the PC and allow the USB drivers to be installed if they aren't already.

Launch SWM and click the Choose APK file. Navigate to the download location and choose the APK file.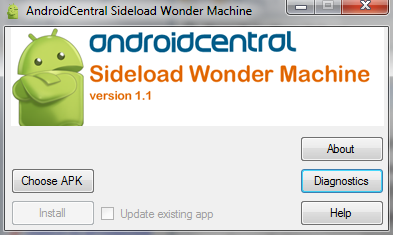 Click the Install button and you'll see a command prompt with the progress. (You may also get a prompt from Windows asking permission for the app to run.)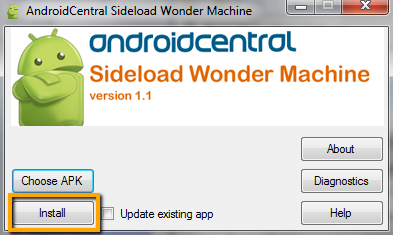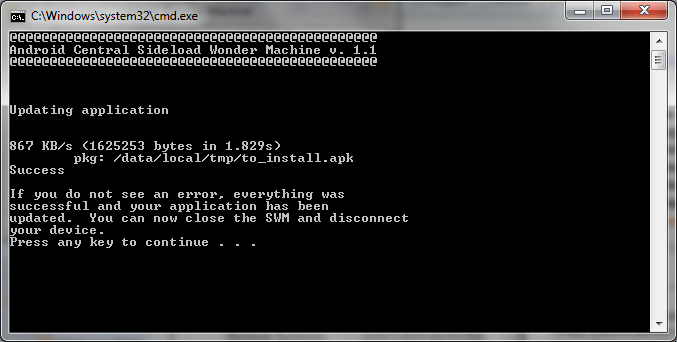 Close out of SWM and unplug your device and you'll be ready to login to Traveler and start syncing.
---
See also