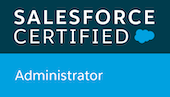 Like a few others in the Yellowverse, I've been playing around in the Salesforce Trailhead environment for a while. Apparently, it's been over 2 years. This year, I've been looking at it more seriously and decided to get certified as an Admin. I've been working in Trailhead mostly and it's fantastic, it's a great way to get introduced to the Salesforce platform and learn by doing and not just reading documentation or watching videos. I also used FocusOnForce's practice exams which were very good as well and helped me focus on areas I needed help in. Also, Mike Wheeler's Udemy course helped as well. I highly recommend them both in preparation for the exams.
After taking the practice tests for the last couple of weeks, I finally decidedd it was time to see what the exam actually looked like and take the exam. The local community college runs a testing center that I've used for the IBM exams, though they've moved it to a brand-new building that off-campus. I booked my exam yesterday and showed up….and passed! So I'm now the owner of a Salesforce Admin certificate.
I think I'll work on the Platform Developer certificate next and I'm also looking at getting certified for AWS. If I've learned anything over the last year, it's that I want to get diversified!
Reference Links:
---
See also